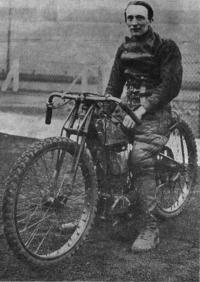 TOMMY CROOMBS (ENGLAND)

Tommy, a very successful English Test rider had his first ride at the Royal on Saturday 28th November 1936.  He rode against Wally Little, Bill Melluish, Vic Huxley, Vic Duggan, Dick Sulway, Steve Langton, Norman Parker, Cliff Parkinson, Les Wooton, Byrd Mc Kinney and Garland Johnson.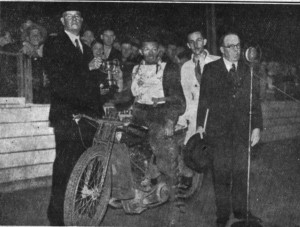 Arthur George "Bluey" Wilkinson is presented with his trophy for winning the 1934 NSW Solo Championship at the Royal. Far left is Mr A.M.Merrington (cup sponsor) on Bluey's left Frank Arthur , Speedway pioneer and M.D. of Empire Speedway P/L and Charlie Lawrence, Announcer.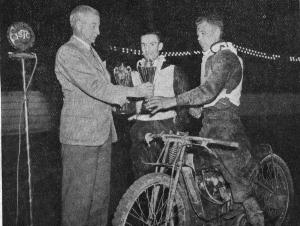 Colonel Sommerville presenting the winners of the 1936 Best Pairs Championship, Wally Little (Aust.) centre, and Jack Parker (Eng.) with their trophies.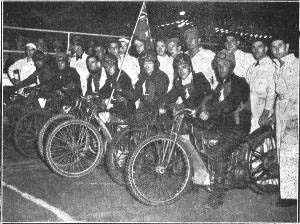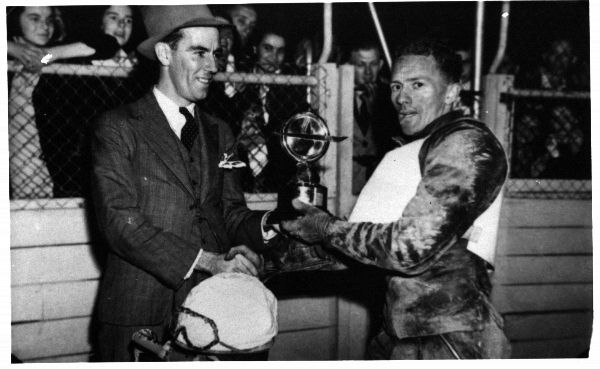 The 1937 - 38 Aussie Test Team at the Royal starting line for the 2nd Test Monday 27/12/37

l to r : Ron Johnson, Vic Duggan, Wally Little, Clem Mitchell, Bluey Wilkinson (Capt.), Lionel Van Praag and Charlie Spinks.

Ken Howard presents Bluey Wilkinson with the "Sporting Weekly" Trophy for 1937. Ken Howard went on to be Australia's greatest horse race caller.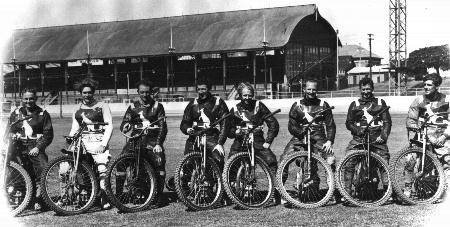 What a fabulous line up of solo riders! The Aussie Test Team for the 1st Test at the Royale on 17/12/1949.     l to r.

Aub Lawson, Ken Le Breton, Jack Arnfield, Norm Clay, Graham Warren, Alec Hunter, Bill Longley and a ring in ! Freddie Williams from Eng.  Aussie Jack Biggs was late for the photo so they put Fred in for a bit of fun. Ken Le Breton lost his life in an accident at the Sydney Sportsground Speedway on 5-1-1951 during a Test match. Norm Clay lost his life at the Sportsground on 20-1-1950 with Ray Duggan. Jack Biggs lost his life in an accident at Bendigo (Vic.) on 9-12-1972.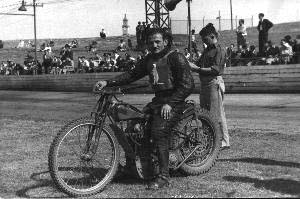 An Aussie Legend, Vic Duggan

Test team mates take a breather, Max Grosskreutz, left and Vic Duggan.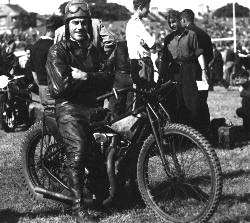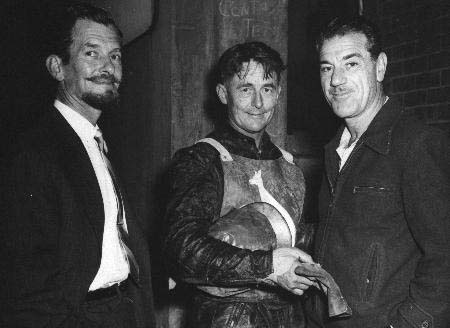 Australian War Hero, speedway pioneer, and the first ever World Individual Solo Speedway Champion in 1936 , Lionel Van Praag. Lionel won the run off against Eric Langton.

Three of the big names in Australian and World speedway, l to r, Bill Reynolds multi Midget World Champion, Aub Lawson, just an unbelievable rider, and Lionel Van Praag pose for the camera of Des Lawrence in the Pits at the Royale.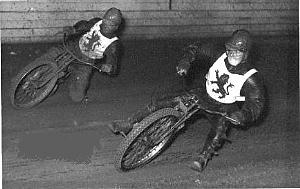 Two Pommy greats!  Outside, the last of the leg trailers Oliver Hart runs with team mate Bill Kitchen in a test against Australia in 1949. Kitchen was the unofficial War time World Champion, rode for Wembley and captained England many times.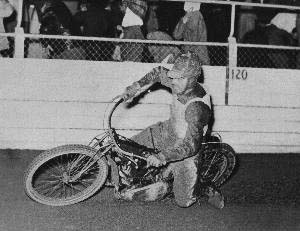 Oliver Hart of England at the Royale.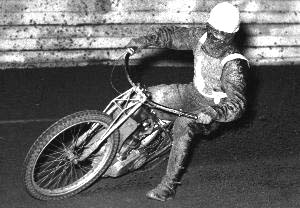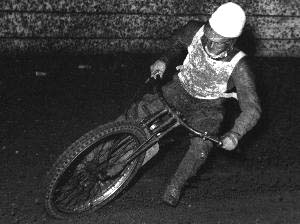 "The Blonde Bombshell"  Graham Warren, an Aussie Test rider and a huge success in England. Rode for the Birmingham "Brummies" and his wedding service nearly brought the city of Birmingham to a halt when he married a local girl. A great stylist he moved his body well on a bike.

Ray Duggan, younger brother of Vic, had his  career cut short when he lost his life at the Sydney Sportsground Speedway on the 20-1-1950 in a dual fatality with his mate Norm Clay.

Click here for Solos at the Royale  Page 2



    Dick Sulway.

Dick was a consistent and successful Test rider for Australia in the 1930s.     (One for you Ed.)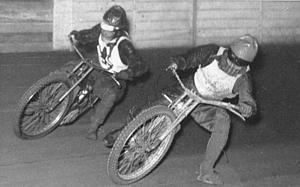 Two of the greatest riders and ambassadors in our sport of Speedway. Neither won a World title but both qualified many times. Englishman Jack Parker runs outside Aussie legend Aub Lawson on the Pit turn at the Royale in 1949.

Aub came out of retirement in 1963 for one meeting only at Kembla Grange Speedway NSW, and beat young hot shots Jim Airey and Bob Sharp for the  NSW Solo Title.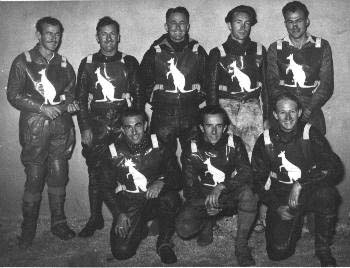 The Australian Test Team for the 4th Test at the Royale on January 28th 1950. Australia beat England  68 to 40.

Back Row. l to r. Keith Gurtner, Bill Longley, Aub Lawson,

Ken Le breton and Merv Harding.

Front Row. Lionel Levy, Jack Biggs and Graham Warren.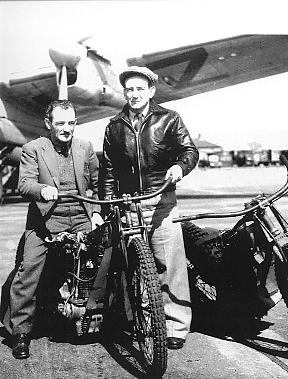 Vic and brother Ray Duggan ( standing) created a lot of interest in Speedway circles when they were the first Australian riders to fly their bikes to England in 1947. They flew over in the Lancaster bomber (pictured) and landed at Heathrow Airport.