A big thanks to Marilyn Brewer and Col Davidson for the use of their photo collections. The news cuttings were given to me by the 'Satan' himself.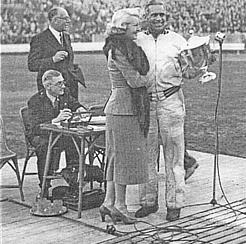 Frank and famous Hollywood actress, Lana Turner in England. Frank took the midgets to England for demonstration runs.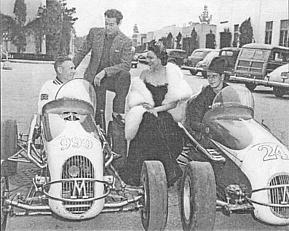 A great PR man Frank ( on left in V860) in Hollywood with Actor Rex Harrison, Actress Linda Darnell and Inky Ingram in the Offy # 24.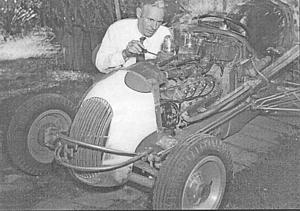 Frank tuning 99 for that extra 10th.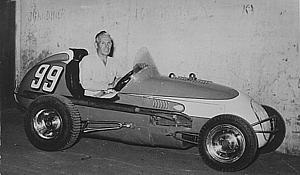 Frank in 99 in the Sydney Sportsground Pit.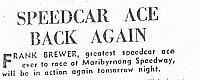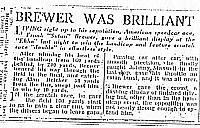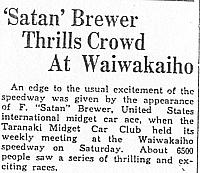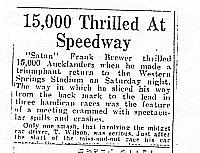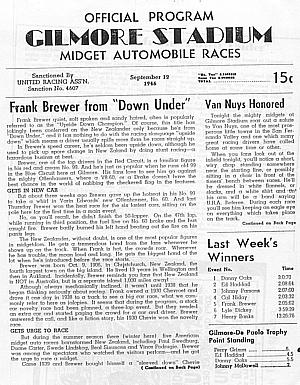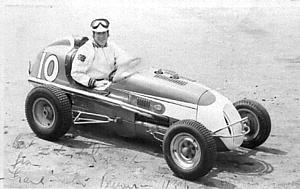 Frank in # 10 as it arrived in Australia in 1949.

Frank and # 99 in action at the Sportsground, Sydney circa 1949.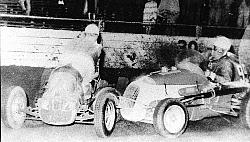 Ray Revell and Brewer in a match race at the Sportsground.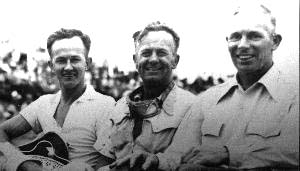 Three midget rascals, l to r.

Ron Ward, Jack Ferguson and Frank.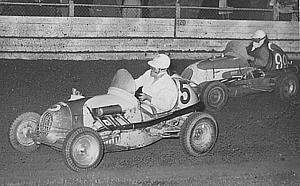 Harold Barnes in the Supercharged Jeep # 5 leads Frank in # 99. Both of these midgets are now restored and are registered with the VSA of NSW.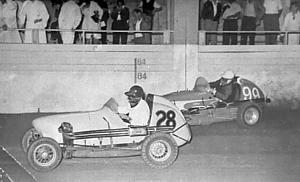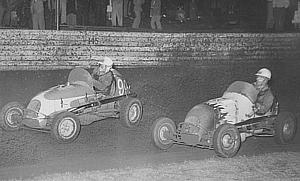 Jack Brabham in 28 leads Frank at the Sydney Showground Speedway.

These were the two cars that Frank brought out to Australia in 1949,  the # 99 V860 and the # 48 V860. Frank is seen here leading Sydney legend driver Andy Mc Gavin.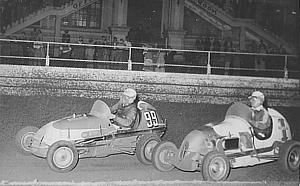 The two "HOT SHOTS" of Australian midgets in the 1950s, Frank "Satan" Brewer and the legendary Ray Revell in Australia 1 Offenhauser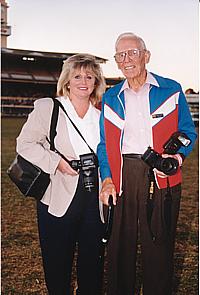 Both keen photographers, daughter Marilyn and Frank at the Sydney Showground Speedway on the Press day before the final two meetings in April 1996. 

Two of our great Speedway pioneers in their twilight years.. On the left solo rider Eddie Behrmann who rode at Maroubra, the Royale, etc in the 1920s and 30s and Frank at the Veteran Speedway Riders Dinner in 1998.

Both as tough as nails on the track, neither would give an inch to their rivals, they are actually holding hands for my photo.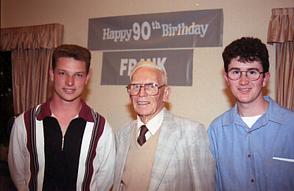 Frank's 90th Birthday party in 1996.  Frank is seen here with young Speedcar driver Gavin Leer on the left and young sprintcar driver J.J. Mineeff . A man with a great sense of humour, Frank brought back some self igniting candles from the US, and unbeknown to anybody had them put on his cake. He had the room in stitches trying to blow out these candles that kept coming back on again and all the time looking so surprised !.

Frank's old 99 midget as it runs today, restored with a 6 cylinder Repco Holden engine. Shown here on a demonstration run at Moruya NSW with the VSA of NSW.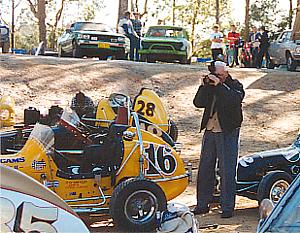 Frank always had the camera handy to record a new midget restoration .        Moruya 1995.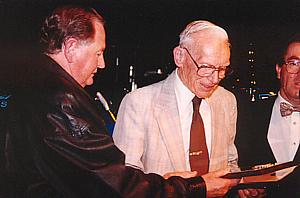 In 1996 we honoured Frank with The Vintage Speedcar Association of NSW's Award , The" Thanks for the Memories" plaque, for his contribution to Speedway.  1960s star driver Sid Middlemass is seen here presenting the plaque to Frank.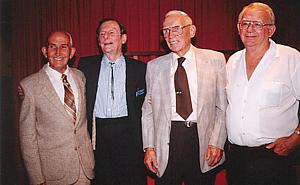 Sydney 1940s and 50s speedcar drivers, l to r. Tom Bradshaw, Allan Marshall, Frank and Bill Shevill at the VSA Cabaret in 1996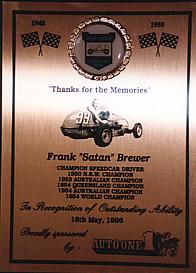 The Auto One  sponsored Thanks for the Memories plaque awarded to Frank.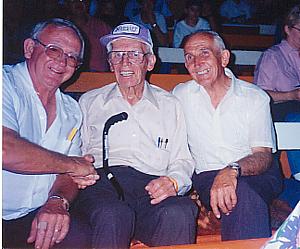 Frank on a night out at the Showground Speedway in 1996. Seen here with Bill Shevill left, and Tommy Bradshaw.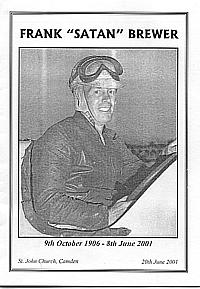 The Final programme for "The Satan".  His girls did the Church service programme as a Speedway programme would have been printed. It was set out in Events 1 to 8 and the Feature Event was :                     A Final Farewell to Frank.

I hope you have enjoyed Tribute to a Legend. Please let me know your comments in Frank's Guest Book below....Brian.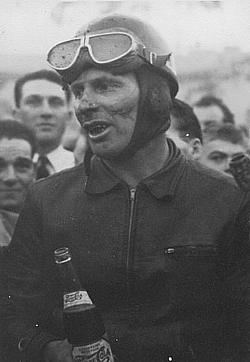 A great pic of Frank taken in San Diego after a midget win on 29/11/1940. Sent from the States for this website by Mike Frye..thanks Mike.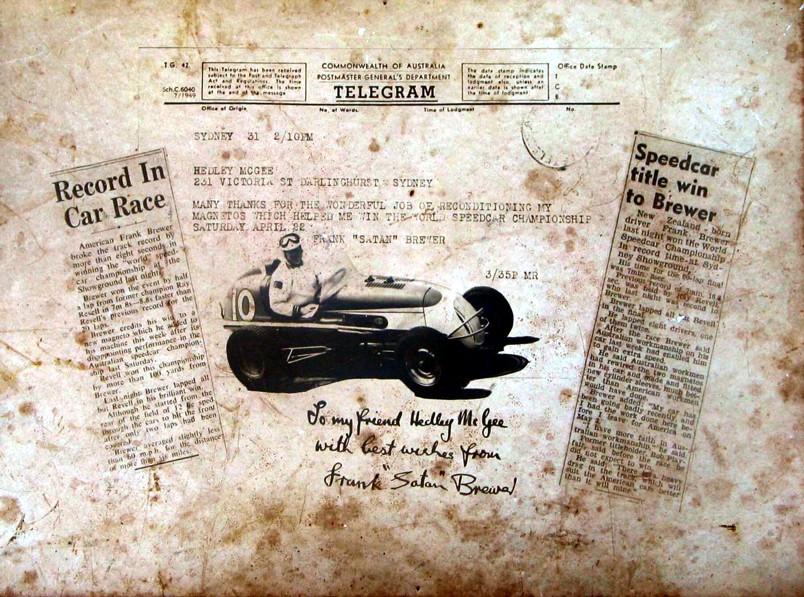 Hedley McGee and Frank were great mates. Chris McGee recently found this Telegram, from Frank to Hedley, in his attic at his home in the States   Thanks Chris for this bit of history.