FATALITIES

            HONOUR ROLL

During it's years of operation, the Sydney Showground Speedway, Moore Park saw 28 riders and drivers lose their lives ( either immediately or within a short space of time) as a result of accidents while competing at this famous venue. The first fatality was in 1926 and the last in 1973.   15 Solo riders, 4 Sidecar riders, 2 Sidecar passengers and 7 Speedcar drivers lost their lives. On the 10/11/00 a plaque was placed and dedicated on the wall on what was the Start / Finsh straight at the old circuit ( now Fox Studios). This plaque ( sponsored by the four Vintage Speedway associations in NSW ) honoured ALL those riders and drivers who had made the ultimate sacrifice for the love of their sport.                                                               Listed below are their names.

This list is as complete as our research allows,  if there are any omissions they are unintentional.  Riders or drivers passing away years after an accident are not included in this roll as the line must be drawn somewhere.

*     Francis Paul Pryke rode as Freddie Paul

* *   Peter Pantlin drove as Peter Johnson

All care has been taken in the research of these events,  if documented proof can be supplied  for any other fatalities ( of riders or drivers ) at  the Sydney Showground Speedway (only) consideration will be made to add such documentation to the records.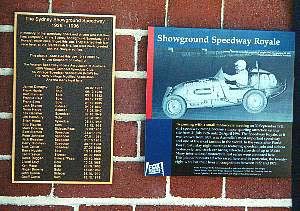 These two plaques were dedicated and mounted on the wall in front of the old Suttor stand on what was the main straight . The bronze plaque on the left lists the competitors names whose lives were lost and the coloured plaque on the right was supplied by Fox Studios to recognise the fact that Speedway had been held in the arena.  Although three omissions were made with the plaque ( whose deaths were not known of at the time of compilation) it is intended to honour ALL of the competitors who lost their lives.


STANLEY TYLER




SOLO




13/11/1926
JAMES DONAGHY




SOLO




26/02/1927
KEITH McKAY




  SOLO




22/12/1928
STUART COBCROFT



SOLO




06/10/1930
FRANK HARRIS




SOLO




06/12/1930
BERT BRENNAN




SOLO




03/12/1932
FREDDIE PAUL




SOLO




03/12/1932
FRANK ELMS




  SOLO




21/12/1935
JACK SKELTON




SIDECAR



04/01/1947
NORM HARDY




  SOLO




12/04/1947
KEV GALLAHER




SPEEDCAR



07/10/1949
JIM HANSBURY




SOLO




07/03/1953
BRIAN MOLES




SPEEDCAR



03/11/1956  


BOB STAPLES




  SOLO




15/12/1956
MERV DOWLING




SIDECAR.PASS.

09/03/1957
SAM STANTON




SPEEDCAR



24/01/1959
PETER JOHNSON



  SPEEDCAR



07/01/1961
JACK BISSAKER



  SPEEDCAR



21/10/1961
BARRY ROBINSON



SPEEDCAR



30/11/1963
NICK COLLIER




SPEEDCAR



27/02/1965
BARRY HOPKIN




SOLO




13/11/1965
TED PRESTON




SIDECAR



05/02/1966
DENIS DUGGAN




SIDECAR.PASS.

29/10/1966
LIONEL LEVY




  SOLO




10/02/1968
KEN MAPP




    SOLO




28/09/1968
ROGER BROWNE




SOLO




15/02/1969
JOHN DUNNE




  SIDECAR



  24/10/1970
GEOFF CURTIS




SOLO




15/12/1973